A unique show consisting of multi skilled comedians who play music whilst simultaneously performing acrobatics and clever comedy.
They come from Chorbastan, the Imaginary land of nonsense and their Exodus is a journey stretched from imaginary land to reality.
Only in front of the audience, they finally reach their promised land.


"…Their stupidity is intelligently designed"


Duration: 1 hour.
Audience: 100 to 5,000.
Age: Adults though we have a version for all the family.
Indoor as well as Outdoor.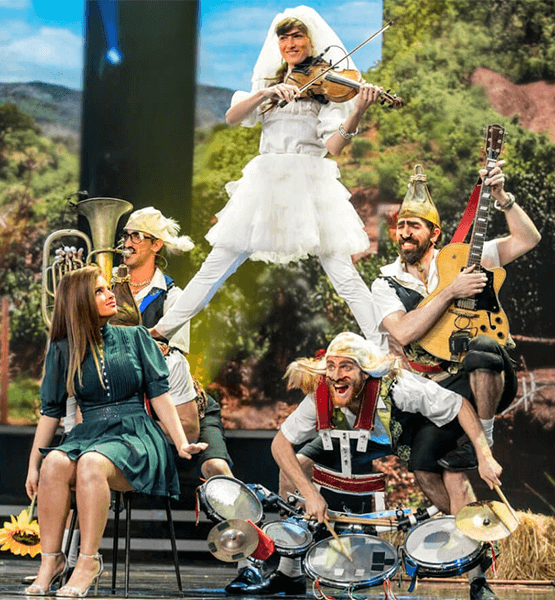 Some of the festivals we did:
Glastonbury festival. England
Chuncheon festival. South Korea
Spancirfest. Varazdin. Croatia
Zwarte cross festival. The Netherlands
Sztuk-Mistrzów festival. Lublin-Poland
Bangkok street festival. Thailand
Tete a Tete festival. Germany
Mood Indigo. Mumbai. India
Da Capo, international street theatre festival. Germany
Cest is the Best festival. Zagreb-Croatia
Modiin festival. Israel
Kremnicke Gagi. Slovakia
Circul'art festival. Bratislava-Slovakia
Jerusalem- Israel
Nijmegen 4 days march festival. The Netherlands
Berlin Lacht festival. Berlin-Germany
Olala festival. Lienz-Austria
Dear Moshe and Asphalt
We enjoyed getting to know you and to see you performing live.
Your interaction with the Mumbai students at the performance was brilliant.
Ya'akov Finkelstein – Consulate General of Israel, Mumbai
Give these guys a like and a share, they truly deserve it.
There is no way to explain how funny they are…
Awesomness!!! Very good, Ciorbastan, very good! 😀
Today I have seen you the second time. You are the official the summer freshener! Keep up your good work!
I love the traditions of Ciorbastan. We were in Romania looking for stuff about my dead bunic and stumbled across you guys at PLAI. I also kept saying it wrong. Next time I will carry a picture of bunic meu in my top pocket, like is tradition in Ciorbastan.
Such a unique performance last night.
Thank you Asphalt Theater!
You are stunning!!! I have enjoyed every single moment!!!
Please fill in your details and we will contact you shortly.